So we built a Cricket Club...
"Excuse me for a moment, I'm up to bat. Be back in an hour..."
It won't make any sense to you at first, but just go with it.
So last year we designed and built a sick little bar on the upper west side.
Secret door, gilded age victorian layout and atmosphere, world renowned cocktail program, and a private membership set of additional amenities.
Here's a few pics to paint a picture:
There's a gallery there, just click or swipe or wave jazz hands around to see them all.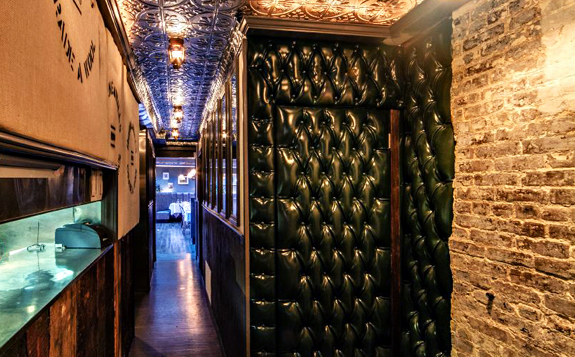 Cool.
Turned out Great. We love it, they love it, the neighborhood loves it.
But there's a funny story to how we got there.
The owners reached out to us in the beginning, said they wanted to create an awesome bar over a cool restaurant, public and private, loud and fun downstairs, sexy and cool upstairs. Can you do it all?
Of Course.
Greg Seider is one of the owners. Award winning Mixologist and Bar Owner, guy's amazing. Here's a video:
So after some initial meetings and walk throughs in this process we come charging in, all designy and shit, and said we got this whole thing top to bottom.
We know what we're doing (we actually do, but go with the sarcasm here for a moment), we've been here for years, we're gonna crush this concept.
Design skills: check.
Branding skills: double check.
Builders | Architects | F&B Development skills: infinity check.
So we get the run down:
Sexy bar on the upper west side of NYC. Sophisticated, unique, amazing cocktails, intoxicating atmosphere, and a place where grown ups can be grown ups.
Yep, so far so good.
Know everything we're going to do. Practically designed in our head already.
Anything else?
"Yes...,
The whole thing is a Cricket Club."
Outloud: "Dude, Cricket Club. Yes..., Perfect."
In my head: "the F*ck is a Cricket Club?"
You know what I knew about Cricket?
Absolutely F*ck.
Jiminy Cricket? Cricket Wireless? Crickets in my tent?
Oh,
Cricket the sport.
Yes, of course.
That globally renowned and historic sport of gentleman that's played pretty much everywhere on earth except in that spot of North America between Mexico and Canada.
Like baseball, but slower and in sweater vests and white pants?
Nope, still knew F*ck.
Asked some friends "What do you know about Cricket?"

Friend 1 - "F*ck"
Friend 2 - "F*ckity F*ck"
Friend 3-10 - "fuuuuuuuuuuuuuuuuuhhk."
We're in New York, this is a global sport, somebody must have some strong working knowledge of Cricket, it's traditions, heritage, and experiences.
We're about to build and open a fairly expensive property based on, amongst other things, Cricket Clubs and the history they embody, so some one, actually a lot of some ones, better know what this is and why it's great or what's the point?
Turns out, there were.
And they Did.
We just had to spend a year getting to know them, getting to know the sport, and getting to know the history, traditions and the atmospheres that translated to.
In that year this is what we learned, and now know, about the game and traditions of Cricket:
A sport from a more refined and civilized age
With moments of high drama.
A cricket test match lasts for five days, with at least 30 hours of play. That's 45 times longer than the shortest war in history.
It's a sport that knows the importance of taking regular breaks for tea.
A sport that, when confronted with a bit of rain, is not afraid to say "sod this" and run inside.
You can do the crossword while watching it. Or indeed, playing it.
But mostly, it's an excuse to sit in the sun all day drinking beer.
And then you can participate in the time-honoured activity of making a giant beer snake out of the empty plastic pint glasses.
Let's just take another look at Andrew Symonds decking that streaker, shall we?
Cricket has a strong beard and moustache history that dominates other sports.
Cricket is the best because it is not afraid of having really, really, really tiny trophies.
Cricket has the most knowledgable and expert commentators, whose wise and sober reflections increase everybody's understanding of the sport. Clearly...
And finally, The rules of the game are so easy to understand they can be written on a tea towel.
Well, the bar's awesome, and the cocktails are great. Maybe just come for that.
-The IC.